Hurricane season 2022 is officially here and it's time to be prepared.
The official start of the 2022 Atlantic Basin Hurricane Season is here and runs from June 1 – November 30. The areas covered include the Atlantic Ocean, Gulf of Mexico, and Caribbean Sea. On April 7, 2022, Colorado State University released its first extended range forecast. They anticipate that this hurricane season will have above-normal activity with an above-average probability for major hurricanes making landfall in the Caribbean along the continental United States coastline.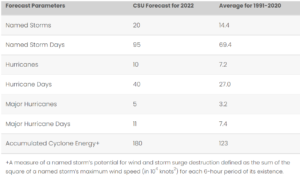 CSU Hurricane Seasonal Forecasting (colostate.edu)
Why should you be prepared?
It is always important to be prepared and make plans ahead of time. Hurricanes are not just a problem for those living on the coast. Rain, water, wind, and tornadoes can occur far inland once a tropical storm or hurricane makes landfall.  Be sure to make your emergency plan in advance, which includes supplies, knowledge of evacuation routes, home, making digital copies of important information (i.e. SSN#, financial documents, IDs), having backup charging devices, etc.
Resources for putting together emergency kits can be found online here.
Not sure what should go in your emergency kit?
We offer a range of products that can become part of your hurricane season emergency kit. These include:
Our three HeaterMeals product lines are shelf stable, fully cooked meals that include a flameless ration heater and activator solution. Learn what a self-heating meal is here. 
No Power? No problem! Our heating technology will enable you to have a hot 12oz entrée in approximately 10 minutes. Discover more about our heating technology here. 
Is coffee a must in your daily routine? Check out Cafe2Go product line.  All you need is 1 gallon of potable water, and we provide the rest!  You can have a nice hot cup of coffee OR cocoa in approximately 29 minutes.
Don't wait until a Tropical Storm is on its way!